Hi, everyone! It's Samantha from Five Heart Home. I'm so excited to be a new contributor here at A to Zebra Celebrations! I'm stopping by today with a sweet treat that's just perfect for Fall.
I go a bit pumpkin crazy this time of year, and my obsession extends from breakfast and brunch to snacks, drinks, and desserts. So it's only fitting that I round out that line-up with a batch of scrumptious pumpkin cupcakes! But these aren't just any pumpkin cupcakes…they're moist and extra flavorful thanks to brown butter, and they're topped off with a light, sweet, cinnamon-infused buttercream. Can you say yum?
Over the past few years, I've found myself making these cupcakes multiple times as Thanksgiving approaches. They are fancy enough to please adults and downright popular with kids. They make a perfect contribution to a potluck Thanksgiving feast, whether at school, church, or a get-together with friends or family.
Now I know that Thanksgiving itself is a pie-centric holiday, but if you have small children in attendance, let's be honest here…most of them would probably prefer eating a pumpkin cupcake, piled with frosting, over a slice of pie! If you're feeling particularly festive, you could even fancy up your cupcakes with some cute Thanksgiving cupcake toppers!
The frosting pictured in these photos is cinnamon buttercream, but I would be remiss not to mention my very favorite cupcake accompaniment, which also happens to be a wonderful complement to the flavor of pumpkin: cream cheese frosting! Some people are fans of buttercream (lighter and sweeter) and some folks (me! me! me!) love a good cream cheese frosting (thicker and with the tang of cream cheese), so I'm going to present you with both options and let your taste buds decide where to take you. The cinnamon buttercream recipe is listed below, and you can find my very favorite cream cheese frosting here. If you'd like to turn it into a cinnamon cream cheese frosting, simply beat in 1 teaspoon of cinnamon…easy-peasy!
If you've never experimented with brown butter before, this is a great starter recipe for you. Brown butter imparts a deep, nutty flavor that you just don't get from regular melted butter, and it only takes a few extra minutes of effort…well worth it! It plays beautifully off of the pumpkin and is nicely contrasted by the cinnamon-infused frosting.
I solemnly promise you, my fellow pumpkin fans, that your repertoire of pumpkin recipes will not be complete until you've tried these moist, delicious cupcakes! Festive for fall but good enough to eat all year long, these treats are a family favorite around my house. I hope you all enjoy them, too!

Brown Butter Pumpkin Cupcakes with Cinnamon Buttercream Frosting
Author:
Samantha from Five Heart Home
Prep time:
Cook time:
Total time:
Moist pumpkin cupcakes are extra decadent thanks to brown butter and a light, sweet, cinnamon-infused buttercream frosting.
Ingredients
FOR THE CUPCAKES:
1 cup (2 sticks) unsalted butter
2 cups all-purpose flour
2 teaspoons baking powder
1 teaspoon baking soda
1 teaspoon salt
2 teaspoons cinnamon
½ teaspoon ground ginger
¼ teaspoon ground nutmeg
1 cup packed light brown sugar
1 cup granulated sugar
4 eggs
1 (15 ounce) can pumpkin puree
1 teaspoon pure vanilla extract
FOR THE FROSTING:
1 cup (2 sticks) unsalted butter, at room temperature
1 (16 ounce) box powdered sugar (approximately 4 cups)
¼ cup milk (or slightly more, if necessary), at room temperature
1½ teaspoons pure vanilla extract
¼ teaspoon salt
2 teaspoons cinnamon
Instructions
FOR THE CUPCAKES:
Make brown butter by slicing butter into pieces and melting it in a large, heavy-bottomed pot or skillet set over medium-low heat. Stir as butter melts and foams. Continue to monitor and stir as the foam subsides and the butter begins to turn golden, with dark specks forming at the bottom of the pan. When the butter smells nutty and is golden brown in color, remove from heat and pour into a bowl to cool, allowing any sediment at the bottom of the pan to remain behind.
Preheat the oven to 350°F and line cupcake pans with paper liners. In a medium bowl, whisk together flour, baking powder, baking soda, salt, cinnamon, ginger, and nutmeg. In a large bowl, mix together cooled brown butter, sugars, eggs, pumpkin, and vanilla. Blend in dry ingredients until smooth and incorporated, but do not overbeat.
Scoop batter into lined cupcake pan, dividing evenly between the 24 cups (each liner should be about ⅔ full). Bake for 18 to 22 minutes or until a toothpick inserted in the center of a cupcake comes out clean. Allow cupcakes to cool in the pan for a couple of minutes before transferring to a wire rack to cool completely.
FOR THE FROSTING:
In a large bowl, use an electric mixer to beat butter until smooth. Slowly blend in powdered sugar, alternating with milk. Add vanilla, salt, and cinnamon and beat on high until light and fluffy. Frost cupcakes once they are completely cool and top with a sprinkle of cinnamon sugar, if desired.
I hope you'll come visit me at
Five Heart Home
 for more quick, easy and kid friendly recipes! You can also join the fun and follow me on your favorite social media:
Facebook   |   Google+   |   Pinterest   |   Twitter   |   Instagram
Do you need last-minute Thanksgiving recipes? Here are a few good ideas. Happy Thanksgiving, everyone!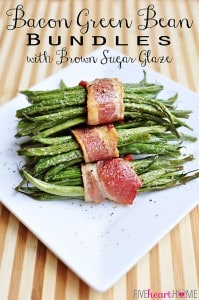 Click HERE for Bacon Green Bean Bundles recipe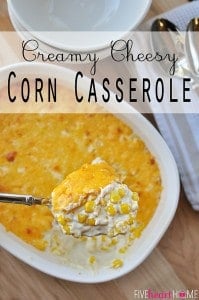 Click HERE for Creamy Cheesy Corn recipe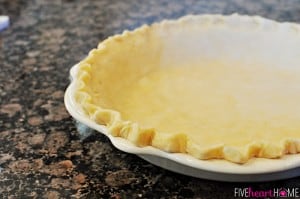 Click HERE for Fool-Proof Flaky Butter Pie Crust recipe