Happy December, y'all! It's Samantha from Five Heart Home. I'm excited to be back with a warm, festive drink to help get you through the chilly days of winter!
There's nothing cozier this time of year than sitting by the fireplace with a hot beverage in hand…and if I'm not sipping on hot chocolate or my favorite warm pumpkin spice drink, then you can bet that I'm drinking hot apple cider! Not only does it warm you up, but I love the way it makes the whole house smell wonderful.
Everybody needs a good recipe for hot apple cider.  This one is quite popular in my family. It's a bit different — with a bright, almost citrus-y undertone — thanks to the addition of pineapple and lemon juices, yet it's spiced with the traditional flavors of cinnamon and nutmeg.
With the holidays upon us, 'tis the season for get-togethers and celebrations. Apple cider is a perfect party drink, since you can whip it up on the stove and keep it warm all night by serving it out of a crock pot.
Hot Apple Cider
Author:
Samantha from Five Heart Home
Prep time:
Cook time:
Total time:
This hot apple cider boasts bright flavor from pineapple and lemon juices and warmth from traditional cinnamon sticks and nutmeg.
Ingredients
6½ cups apple juice
1 (4-inch) cinnamon stick
1½ cups unsweetened pineapple juice
¼ cup honey
3 tablespoons lemon juice
1 teaspoon grated lemon peel
¼ teaspoon ground nutmeg
1 medium orange, cut into ½-inch slices
50 to 60 whole cloves
Additional cinnamon sticks for garnish, optional
Instructions
In a large pot, bring apple juice and cinnamon stick to a boil. Reduce heat; cover and simmer for 5 minutes. Stir in the pineapple juice, honey, lemon juice, lemon peel, and nutmeg and bring to a boil once more. Reduce heat; cover and simmer for 5 minutes.
While cider is simmering, use a toothpick to poke holes along the rind of each orange slice (spacing holes approximately ½-inch apart), and insert a clove into each hole.
Discard cinnamon stick. Pour apple cider in a mug and serve hot with an orange slice garnish and an additional cinnamon stick, if desired.
Notes
Adapted from Taste of Home Celebrations Cookbook
I hope you come visit me at
Five Heart Home
for more quick and family-friendly recipes! You can also find me on:
Facebook | Google+ | Pinterest | Twitter | Instagram
Looking for recipes that are perfect for the holidays?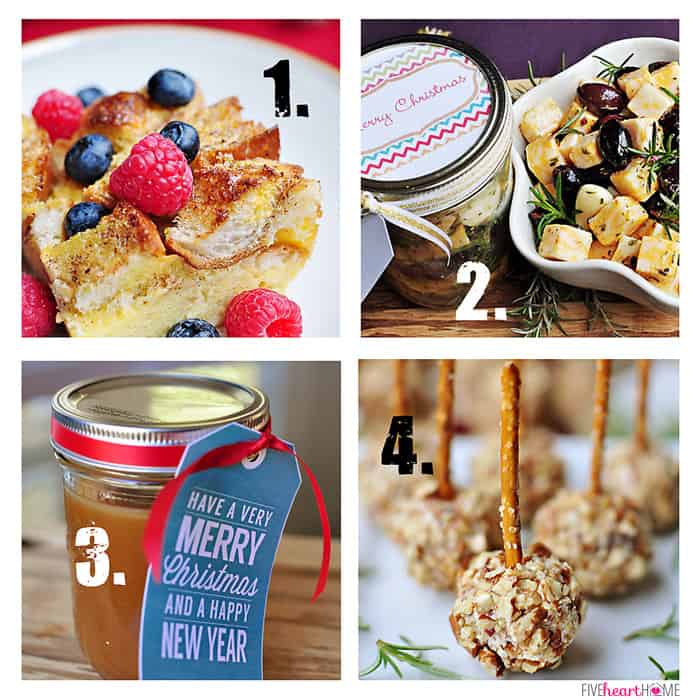 1. Overnight Eggnog French Toast Casserole
2. Marinated Cheese & Olives (appetizer or food gift)
3. {5-Minute, 5-Ingredient} Homemade Caramel Sauce